By Bob Ellis on May 6th, 2010 Joel Rogers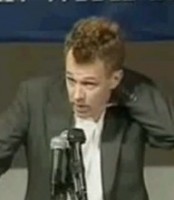 Have you ever heard of Joel Rogers? Odds are you haven't…and I'm sure President Barack Obama would just as soon you knew as little about him as possible.
Rogers is an ally and associate of Obama's. Rogers
helped found
the New Party, a Marxist coalition working to elect Leftists of all stripes and flavors, including Democrats.
Back when Obama was launching his political career with the
help
of
Marxist
domestic terrorist
Bill Ayers
, Obama sought the endorsement of the New Party and even became a
member
.
In the video below, you'll hear Joel Rogers speaking at Columbia University. He tells us how American capitalism is "monstrous" and is indifferent to all that is good and human, how (in his mind) government sets us free while business forces us to do their complete bidding,
This guy engages in some serious historical revision, but it is illustrative of what Leftists in America–including Obama–really think.